Video Production for Kubota Tractors & Machinery
Kubota, a tractor manufacturer in Japan, hired Garcia Films for video production to create all of the aerial footage for its new commercial. The tractor manufacturer's fast-paced commercial is set to run on television in Europe. We were originally hired for three days, but ended up staying there for a week and a half.
Helicopter vs. Drone Video Production
Because of our piloting ability, we could get shots 2-3 yards above the grass in front of the mower. We had to be especially careful because if you made a mistake you and the equipment could get mowed over. Using a drone allowed us to get much closer and maneuver from a safe distance away from the heavy machinery.
Kubota had a helicopter at the shoot, but they eventually sent the helicopter home because the drone could capture what the helicopter was and was not getting. We could also get much closer to the equipment with a drone rather than a helicopter because the helicopter would blow things everywhere. The size and power of a drone was much more suitable for this commercial.
The final product resulted in catchy shots of the machinery from all angles and heights, with the orange tractors popping on a bright green and blue scenic background.
Filming in Hot Conditions
Our knowledge of aerial videography was tested and proven as we shot outdoors in a field with 100 degree temperatures. Keeping the drone batteries cool and charged during this shoot was vital. Once flown, lithium polymer batteries, or LiPo for short, must cool down before you can charge them again. Garcia Films had to ensure we were able to fly battery after battery without holding up the rest of the crew. We applied techniques to restore the batteries to room temperature very quickly. Cooling the batteries allowed us to safely put it back on the charger and remain productive during filming.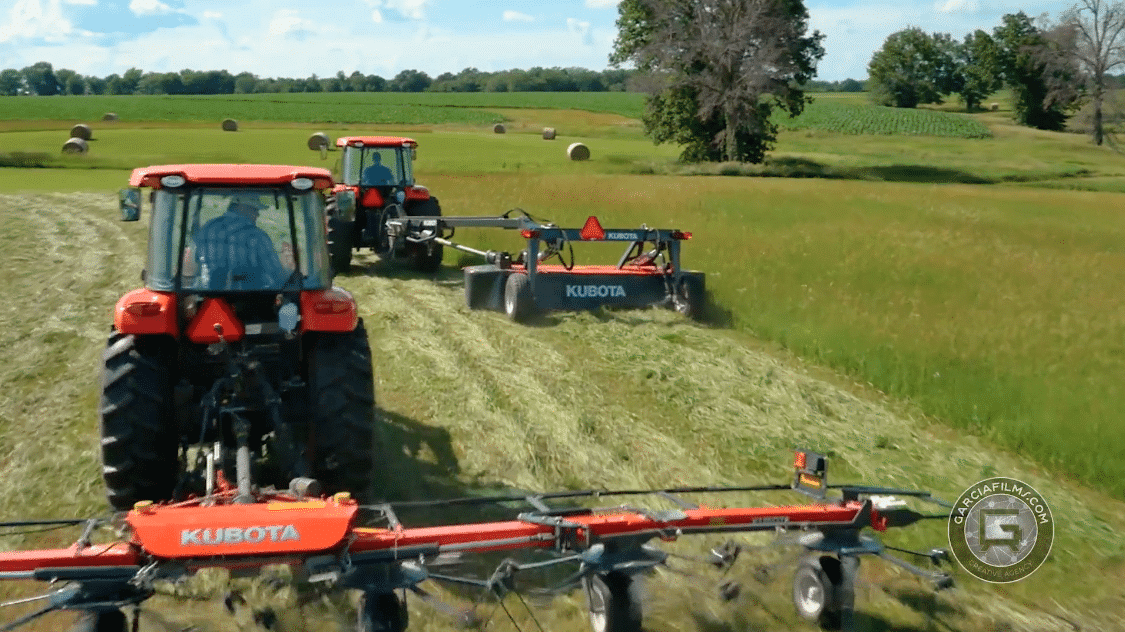 Need aerial photography or video?
If it's time to elevate your company's brand story through visual storytelling and high-end video production, Garcia Films is ready to start the conversation today.