Garcia Films is an all-in-one commercial film and video production agency located in Kansas City, MO. Through our creative, innovative, and unique approach, we are able to use complex commercial cinematography techniques to help you and your business succeed. We then use techniques such as aerial cinematography, UAV videography, HD video production, and HD post production to give you and your business the best video possible. Our team personally walks you through the entire process so you will have the utmost confidence that you will leave with a refreshed and improved company image.
We have years of experience giving our clients the services of both a creative agency as well as a commercial video production house to improve their businesses. Here at Garcia Films, we can work with any budget an have the tools necessary to provide a whole host of commercial videography and photography services. 
Inspire 2
The Inspire 2 has the capability of flying with five different lenses, including 15mm, 24mm, 30mm, 50mm, and 90mm. When using the 50mm and 90mm lenses, which is considered telephoto focal lengths, you can achieve a more realistic appearance for your drone video shots and can look as though it were captured with a helicopter rather than a drone.
The lens of the camera is bigger, so it has more depth of field and also shoots 5.2k raw video. Along with its aerial video capabilities, it can shoot still aerial photography. Depending on the camera that it is being used, 20-24 megapixels for raw images can be achieved. The Inspire 2 is able to move with high speeds of 60mph, sometimes even higher. With all of these incredible features, a substantial amount of movie openings have been shot on this drone recently. Its ability to produce a high end look and its quality compares to a RED Cinema camera, which are top of the line cameras.
This particular unit can be set up with a unique dual control system. There are two controllers, one for the pilot and one for the camera operator. The pilot is able to focus on flying the drone while the camera operator focuses on capturing the shot. This unique system enables users to film more difficult shots while being safe. There are situations where safety is a priority and using the dual controller feature is able to attain that standard of safety.
Along with our dual control system, the Inspire 2 has a dual IMU. This includes a dual computer, dual GPS, and dual batteries, all of which are essential for getting expert-level shots when using drones. These features can be especially utilized when flying over crowds or largely-populated areas. Users can be confident about using their Inspire 2 over large amounts of people without worrying about the drone failing or dropping out of the sky uncontrollably because it is, overall, a very safe drone.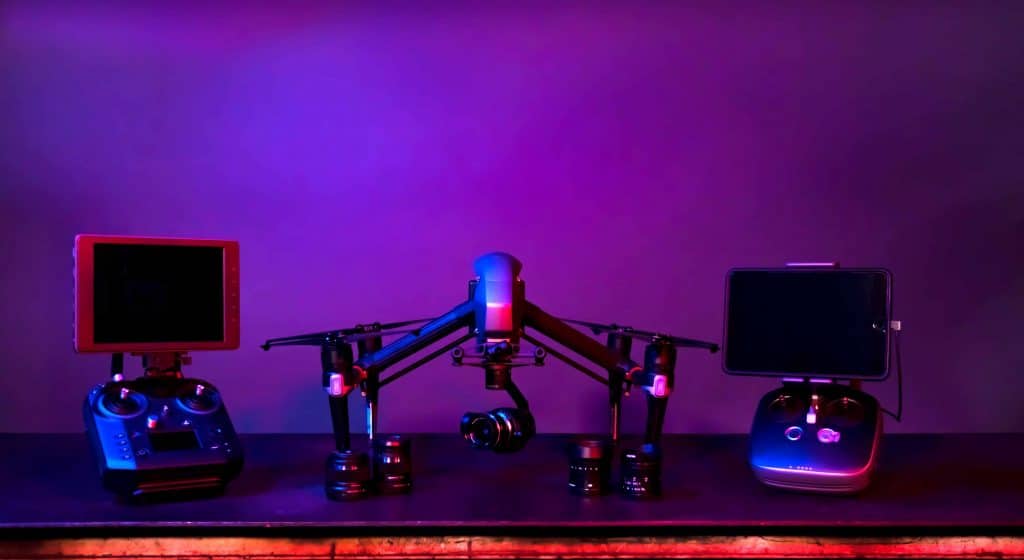 ---
m600
The m600 is a hexacopter. It is equipped with six batteries and the overall size of it is roughly a meter in circumference, and yet, it is very light. The m600 is less than 10 pounds when looking at the total weight of the unit and its total payload capacity is 33 pounds. This leaves about 20 pounds for the hexacopter to carry up a RED Cinema camera and an Alexa Mini. Practically any camera a high end production would require can be supported by the m600 to get the perfect shot. When pairing the m600 with a smaller camera, the total flight time is around 35 minutes. When equipping it with a heavier payload – such as a RED camera, the total flight time shifts to around 16 minutes.
Redundancy is a big factor in the strengths of the m600. Even if the motor fails, the pilot is still able to land it. A feature that aids the safety of the hexacopter is that it is equipped with six blades rather than four. This along with its aforementioned six batteries ensures that if something failed, it can still be flown. If one of the batteries were to go out, there would still be five others to keep the hexacopter powered. Similarly to the Inspire 2, it has dual IMU and dual GPS.
The m600 hexacopter offers its users convenience. Attached, is the gimbal. As seen in the picture attached, the gimbal is carrying a RED camera, but almost any camera can fit on it and be flown with said camera for any and all drone video needs. Another practical feature is the ability of the arms to fold down, assisting in its portability. Although it offers challenges because of its size, this feature allows the user to fit in into a vehicle and transport it from location to location when filming aerial video without having to take its pieces apart or using unnecessary tools.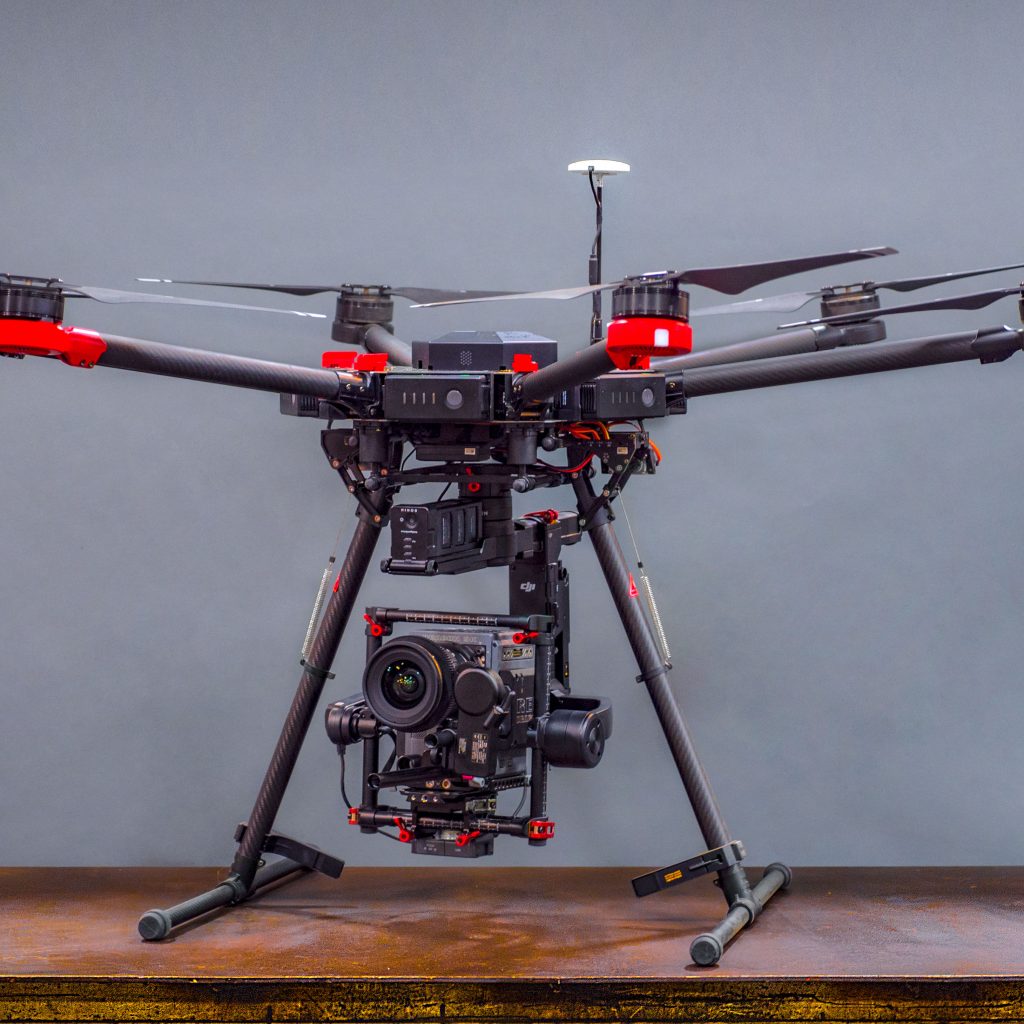 ---
Mavic 2 Pro
This is the DJI Mavic 2 Pro. It's a very small and portable unit and is often something that is used for scouting areas and shots before using other, larger drones. The drone flies 30 minutes on a single charge on one battery, which makes it perfect for determining the best aerial video shots possible. It can be difficult to determine the best location for filming while on the ground because the perspective of things and places changes once the drone is picking up footage in the air, so accurately deciding where the best shot is where the Mavic 2 Pro comes in.
It is unquestionably safe. The Mavic 2 Pro is equipped with cameras in the front, sides, bottom, and can use infrared technology to detect and prevent the drone from running into any physical objects. It can even be used for indoor projects and when flying over people, where safety is of the utmost importance. It is one of the most safe drones on the market right now.
Although the Mavic 2 Pro is small, it can hit speeds of between 45-50mph. This drone can give bigger drones a run for its money, so don't let its size fool you!
The most important feature on this drone is its camera. Its equipped with a Hasselblad engineered camera, which is exceptionally good quality. The camera has powerful features including remarkable lowlight capabilities, 20 megapixel still images raw, 4k video, and 10 bit recording. Most drone cameras only shoot 8 bit, but with 10 bit you get access to 1.1 billion colors versus the 16 million that come with 8 bit, which adds flexibility in the editing process of the photos or film in post.
Garcia Films is proud to work with a variety of clients across many different industries. See what our clients have to say about working with us:
"Over the last couple years we've worked with Garcia Films, and they've helped us establish a corporate identity." — Jeff Green, General Manager of Butler Transport
"Garcia Films basically over-delivered our expectations. We were extremely happy with the overall product." — Drew Hoffman, CEO of Cullum & Brown
"We have been working with Garcia Films for the last three and a half years and are extremely happy with their work. We would highly recommend them to anyone." — Marilyn Coughlin, Co-Owner of Mid-America Contractors