Ducati Motorcycle
In this video for Ducati Motorcycle, Garcia Films used some aerial video production, but only a limited amount. The goal and focus was to capture as much action as possible in a 60-second commercial.
Action Shots
Garcia Films filmed from a vehicle as the motorcycle was driving through various obstacles. To capture different shots while driving through high speed corners, our video production team used a slow motion, high frame rate in combination with car-to-car motorcycle to product vehicle. Alternating between slow motion and real-time clips added a dramatic effect to the commercial. A three-axis stabilizer mounted on the vehicle was controlled by a remote to capture the shots.
Garcia Films was purposeful in filming at a specific time of day. The setting sun played with the hazy lighting and shadows throughout the video. In addition, the commercial had a scenic background with winding roads and tall fields.
The main part of this commercial was the storyline. Most motorcycle commercials are shot on a race track, even though 90 percent of motorcycle riders drive on the street. We wanted to make this piece as realistic as possible so it would connect with the audience through social media. Putting the motorcycle on the street resonated with the audience much better. The commercial tells a story with visuals of the driver walking up to the motorcycle, getting on, and racing off down the road.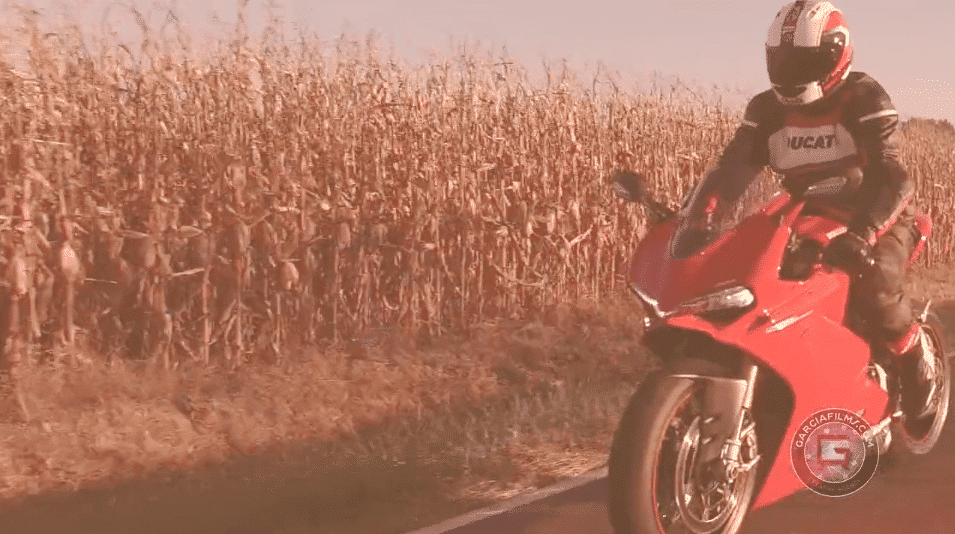 Garcia Films also used a violinist throughout the piece to represent the artistry of the bike and its performance and precision. At the end, the visual connects with the tagline of "Where performance, art & precision meet" as the driver comes to a halt in front of the violinist.
Seeking action-packed photography or video production?
If it's time to elevate your company's brand story through aerial video production and visual storytelling, Garcia Films is ready to start the conversation today.