Boardwalk Ferrari Video Production
For the 60th annual Bacchus Ball, Garcia Films partnered with Boardwalk Ferrari and the Bacchus Foundation for a video production project to create a promotional video. Bacchus Foundation asked Garcia Films for help shooting a high-end, elegant trailer to sell tickets for their Kansas City non-profit event. To meet their needs, we combined the elegance of the Ferrari with the overall theme of the Bacchus Ball.
Capturing Automotive Angles
The whole trailer was filmed in Kansas City in 2015. To get up-close shots of the Ferrari wheels turning, we used specialized cup-suction mounts on the vehicles. Garcia Films also did aerial recordings following the car driving down the road to mix up the shots. Garcia Films filmed car-to-car with a three-axis stabilized Gimbal remote control from the inside of the vehicle, similar to what we did on our Ducati motorcycle video production case study.
Telling a Story through Visuals, Sound and Color
To further give the air of elegance, we combined the automotive clips with some lifestyle shots and stock footage of poker chips and a martini. Garcia Films shot all the lifestyle pieces— the man getting dressed and approaching the Ferrari, the woman in a long dress entering the car, etc. The sound mixing was what really tied the piece together. We captured all of the sounds throughout the video, when you hear the racing announcer speaking and the vehicle sounds. To give the whole visual a nostalgic, evening look we adjusted the color grading.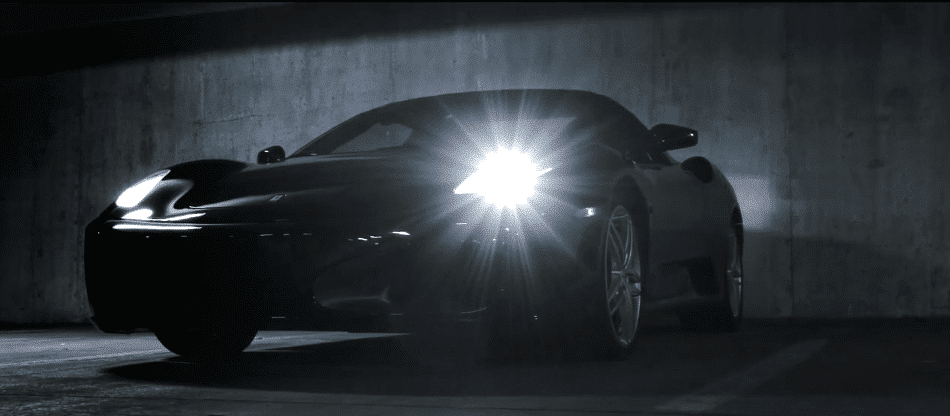 Need automotive photography or video?
Reach out to Garcia Films today to discuss your next video production project. No matter your industry, Garcia Films can create any type of video using the highest end techniques. Fill out a contact form today!